Move Money From Your Till to Your Safe in Seconds Without Leaving The Shop Floor
This week in Hertfordshire a ginger haired man stole cash 'at knifepoint' from a village shop in St Ippolyts and robbers stole £10,000 from a Post Office in Brighton. Elsewhere, Avon & Somerset Constabulary are trying to track down a man armed with a knife who demanded cash, cigarettes and vodka at a shop in Staple Hill High Street, South Gloucestershire. Meanwhile in Scotland a thief with a samurai sword held up a shop in Penicuik and in Northern Ireland, a Belfast shop was robbed by masked men with baseball bats.
Cash robberies from small shops and large retail outlets are happening regularly all over the UK putting your staff and your takings at risk. What can you do to stop your hard earned cash falling into the hands of organised crime gangs or opportunist thieves?
Whilst there are many security tips and solutions we could suggest, there is one in particular which will enable you to move cash away from vulnerable areas quickly and efficiently.
Air Tube Systems for Retailers
Air Tube Systems, also known as Pneumatic Air Tube systems, capsule pipelines or Pneumatic Tube Transport (PTT) are systems used to transport solid objects through networks of tubes by compressed air or partial vacuum. Such systems have been used for years in offices, hospitals and other businesses to quickly transport small packages like mail, paperwork and money over relatively short distances.
In a retail environment air tube systems have been designed as a means of transporting cash away from the till areas and into your back office safe without having to leave the shop floor. The cash is put inside a capsule and placed inside the chute. It is then sucked up through the pipes which are connected directly to your safe, allowing it to be deposited without opening the safe door.
Air tube cash transfer chutes ensure that your shop floor is always manned. They prevent your workers from having to physically transport money to the safe, which can put them at risk of being targeted by thieves, and they're quick and easy to use.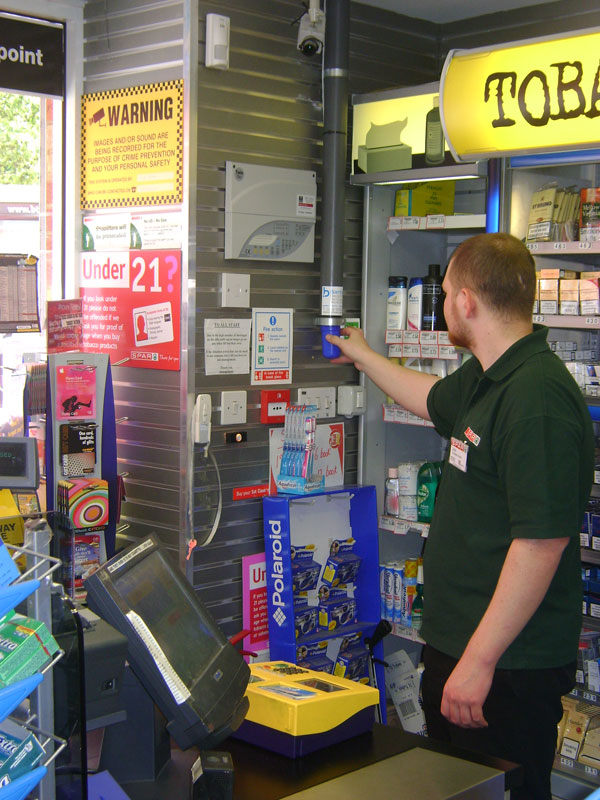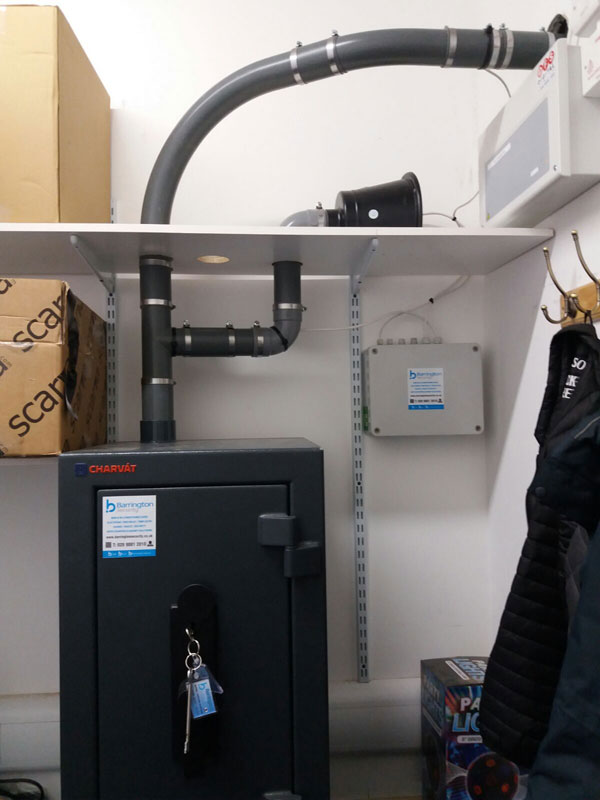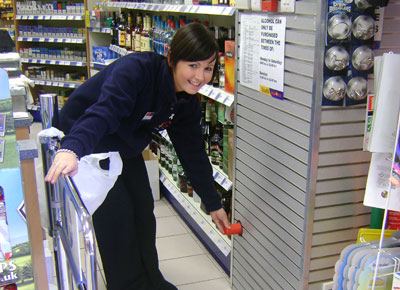 Some existing safes, like Charvat Safes can easily be modified to accommodate the air tube system.
How to Use an Air Tube System
The following are some tips to help air tube system users to use their cash chutes properly and minimise blockages and downtime:
Make sure capsule carrier lids are put on firmly.
Always put the cash notes inside a plastic bank bag, so if the lid comes off the money stays together.
Never send coins up inside capsule carriers – ONLY NOTES!
Make sure the safe door is closed when using the air tube system to keep it airtight.
If you have an emergency capsule deposit just above the safe, make sure it is in the shut position. If it is slightly open the air will escape and the suction will reduce, thus stopping the capsules from going up at their normal pace.
How to Address a Blockage or Malfunction of Your Air Tube System
Occasionally, a blockage or malfunction can be experienced – sometimes due to human error. Whilst our team supply, fit and maintain air tube systems for our clients, we always advise retailers to check the following before calling out one of our maintenance engineers:
Check that the safe door is locked.
If you have little suction, turn off power and disconnect the pipework going into motor. Then check the filter to see if any paper, plastic, fluff or dirt is covering the filter. If so, remove it and put the pipework back together and test the air tube system again.
If capsules aren't going into the system, check the T-piece or clutch just above the safe by loosening the 4 jubilee clips and look inside. Sometimes carrier lids open up and the money or money bags get stuck in this area. If this has happened, clear the area, put back together and test again.
If you have sealant around the safe door, also make sure it is still intact. If it has come away, put in a new strip of E-Draught excluder to seal it up again.
If none of these tips solve the issue, contact us/your supplier to arrange a maintenance visit.
If you are a retailer and don't yet have an air tube system installed, it's something you should definitely consider. At Barrington Security, we've supplied and fitted these systems into many retail stores and filling stations for customers which include Spar, Super Valu, Applegreen and Maxol. We supply Air Tube carriers from 63mm to 90/110mm. We also make the air tube motors and control units at our factory and modify our safes to allow the Capsules to drop into the safes. With over 28 years' experience in the business, we supply trade customers too.
Contact our team on 028 9081 2010 or info@barringtonsecurity.co.uk for more information.