What is the Best Fireproof Safe for Home Use?
3 Best Home Fire rated Safes for 2019/2020
The best home Fire rated safes will keep your valuable documents, cash, jewellery, and most importantly other valuables safe in various situations, such as during a fire or burglary, or simple 'wear and tear' over time. With the job of protecting many of your most prized possessions it's worth investing 'a few bob' to get yourself the best fire rated home safe possible. These are our top 3 Fire home safes for 2019/2020, based on our best sellers last year and listed in order of price from the lowest to the highest.
Phoenix Titan FS1281E Fire Safe starting from £173+vat for the Size 1283K Model (£207.60 including VAT)
Chubbsafes Home Safe S2 Range - starting from £196 for the 10K Model (£235.20 including VAT)
Burg Wachter Combiline Safe - starting from £239 for the CL 10K Model (286.80 including VAT)
Features
Phoenix Titan Fire Safe
Chubbsafes Home Safe S2 30
Burg Wachter Combiline Safe
Suitable for cash, jewellery, documents and other valuables
✓
✓
✓
High security features
✓
✓
✓
Fire proof for 30 minutes
X
✓
✓
Fire proof for 60 minutes
✓
✓
✓
Tested & Certified to European standards
✓
✓
✓
Approved for Insurers
✓
✓
✓
Meets Police Approved Standards
✓
✓
X
Multiple size options with removable shelving
✓
✓
✓
A high quality fire rated home safe should have many of the following features as standard:
High Security – features such as a double bitted key lock or electronic lock, strong locking bolts on the door, a double walled body and doors, as well as base and/or rear fixing options to prevent burglars from easily removing it from your home are all things to look out for. All three safes listed above come with a variety of high security features as standard.
Fireproof – a good fireproof safe should provide a minimum of 30-60 minutes fire protection for paper documents.
Tested & Certified – the best fire safes are independently tested and certified to meet European safety standards, police approvals and the requirements of insurance companies – more on this below.
Insurer Approved – the best safes are approved to meet the criteria set within home insurance policies offered by all major insurance providers. If you find yourself in the unfortunate positon of having to make a claim against your home insurance policy, this will be taken into account in relation to a pay-out. All three of our best fire safe options provide a minimum of £2,500 cash cover to £4,000 cash cover and £25,000 to £40,000 jewellery cover. Larger sizes will have greater cover to take into account their increased capacities.
Multiple Sizes with Removable shelves – this helps to ensure that all customers can find one in a size that will suit its proposed contents. Removable shelves also make your fire rated home safe more customisable to reflect the size and shape of the items you wish to store in it.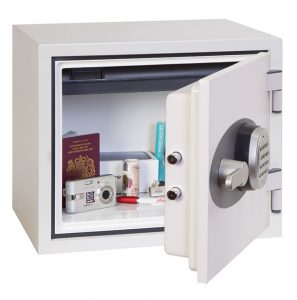 Phoenix Titan FS1281E Fire Safe boasts a range of security features including:
The Phoenix Titan is a modern, compact, fire and security resistant safe designed to meet the need for residential and business use.
FIRE PROTECTION (PAPER): Tested to the International NT Fire 017 - 60 fire test standard, at the Swedish SP Testing Centre providing 60 minutes fire protection for paper documents.
FIRE PROTECTION (DIGITAL MEDIA):: Tested to MTC - DIP120 - 60DMA fire test standard, providing 60 minutes fire protection for digital media, DVD's, USB memory sticks.
The extensive Titan range is available in 3 different sizes, and each has a key lock or electronic lock version. With 6 safes to choose from, you should be able to find a Fire rated home safe that will match your selection criteria. The electronic version has an external power point you won't be locked out of your fire rated home safe if the batteries go flat.
Phoenix Fire rated Home Safes are insurance approved.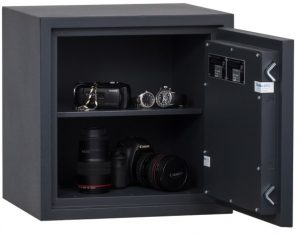 Chubbsafes Home Safes are also well equipped with multiple high security features including:
Combined fire and burglary protection – certified to meet European standards. The safe door is secured using the new revolutionary "V" bolt system. The design of the locking bolts helps maintain door integrity when under physical attack and during a fire.
Key lock or electronic lock options
Dual base fixing holes, supplied with two concrete anchor bolts.
The walls and door are constructed using an inner and outer layer of steel containing a specially formulated burglary and fire resistant material developed by Chubbsafes. This material provides class-leading performance with low weights enabling installation almost anywhere!
Chubbsafes S2 30P fire rated home safe is also approved by the Association of Insurance Surveyors.
Six size options are available, each with a key lock or electronic option.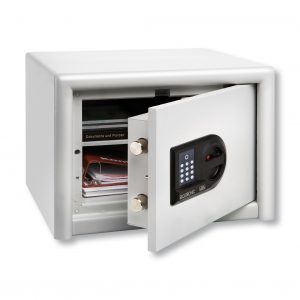 This comes in 3 different sizes, the CL 10 option with a key lock being the smallest and most affordable of the range. The electronic locking version costs an extra £50 (approximately). The batteries on the electronic model are mounted externally to prevent lock out if the power fails.
The Combiline offers certified protection against burglary (Resistance Grade S2). It has a variety of high security features including:
Double walled construction with additional fireproof insulation to give 30 minutes fire protection for paper at temperatures of up to 900˚C (Resistance Grade LFS 30 P)
Composite door construction to provide heat protection for the door and bolts
High security double bitted keylock or electronic lock options
Large 25mm locking bolts with sliding top bolt for additional security
Base and rear fixing options
It's currently the only certified safe lock with an integrated finger scan module which makes it very quick and comfortable to open, yet offers a highly sensitive procedure of authentication.
Our customers are very happy with their Burg Wachter Combiline Fire rated Home Safes!
Summary
All of these models are good choices for a Fire rated home safe but if these three don't give you enough options to consider, a close 4th position goes to the Securikey Mini Vault Gold FR S2 range of security safes, and we have various other options in our home safes section to suit differing needs and budgets.
Order online or contact our team if you require further assistance to find the best Fire rated home safe for your home.
Tel: 0800 389 6066
Email: info@barringtonsecurity.co.uk
Additional Reading on Home Safes:
5 Factors to Consider Before Buying a Home Safe
Buy a Home Safe to Protect Your Valuables from Burglars