4 Ways for Retailers to Keep Money Safe
Keeping your money safe is a priority for all business owners. Whether you're a cashier for a large supermarket or you own a small shop on a quiet street corner, retailers are always at risk of armed robbery. Thieves can strike at any time of the day or night, which means you've got to be ready for them. We're not suggesting you load your store with traps, but we do suggest that you take the necessary precautions to protect yourself and keep your hard earned money safe.
Remember, thieves aren't always dressed in a black disguise with an eye mask to match. Sometimes they're dressed in the same uniform as you! That's right, we've all heard stories of dishonest employees. Unfortunately, it happens.
Keeping your money safe is easier (and more affordable) than you think. Criminals are lazy. They want to get in and out with as much cash and valuables as possible, as fast as possible. The longer they spend robbing your store, the higher their chance is of getting caught.
So, if you want to keep money safe, here are a few of the best security products for the job:
1. Drawer Deposit Safes
Retail establishments are a gold mine to potential thieves. They know they're likely to find cash on the premises, and they know where to find it. It's up to you to limit the visibility of money by using a drawer deposit safe. This safe allows you to deposit cash quick and easy without much fuss. Just open the drawer and place your pocket of cash inside. When you close the drawer, the cash drops into the main body of the safe.
The Charvat Neutron Star Grade 2 Safe Drawer Deposit Safe series is perfect for use in shops, restaurants, pubs and clubs because you can quickly deposit cash lodgements without having to open the actual safe. It's also equipped with adjustable shelves and supplied with a twin key lock on the main door. This means the store has one key and the CIT Company (such as G4S or RMS) has the other key. It takes both keys to access the main safe for maximised security.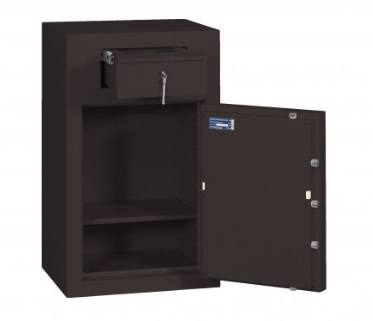 Keep money safe with a Charvat Safe Deposit Box
2. Money Tube Transfer Systems
The financial cost of a robbery can have a detrimental effect on a business. The experience alone can cause physical and psychological trauma, which is why it's so important to introduce a security system on the premises. In addition to alarms and CCTV, a money safe is required to store cash and other valuables.
Money tube transfer systems are great for guaranteeing safe transit of money away from the area of greatest risk – the till or check-outs area. The Barrington One Way System uses air tubes to transport cash in the retail business to a small cash safe. Transporting money discreetly and efficiently, these air tube systems are ideal money safes for department stores, shopping malls, supermarkets and cinemas etc.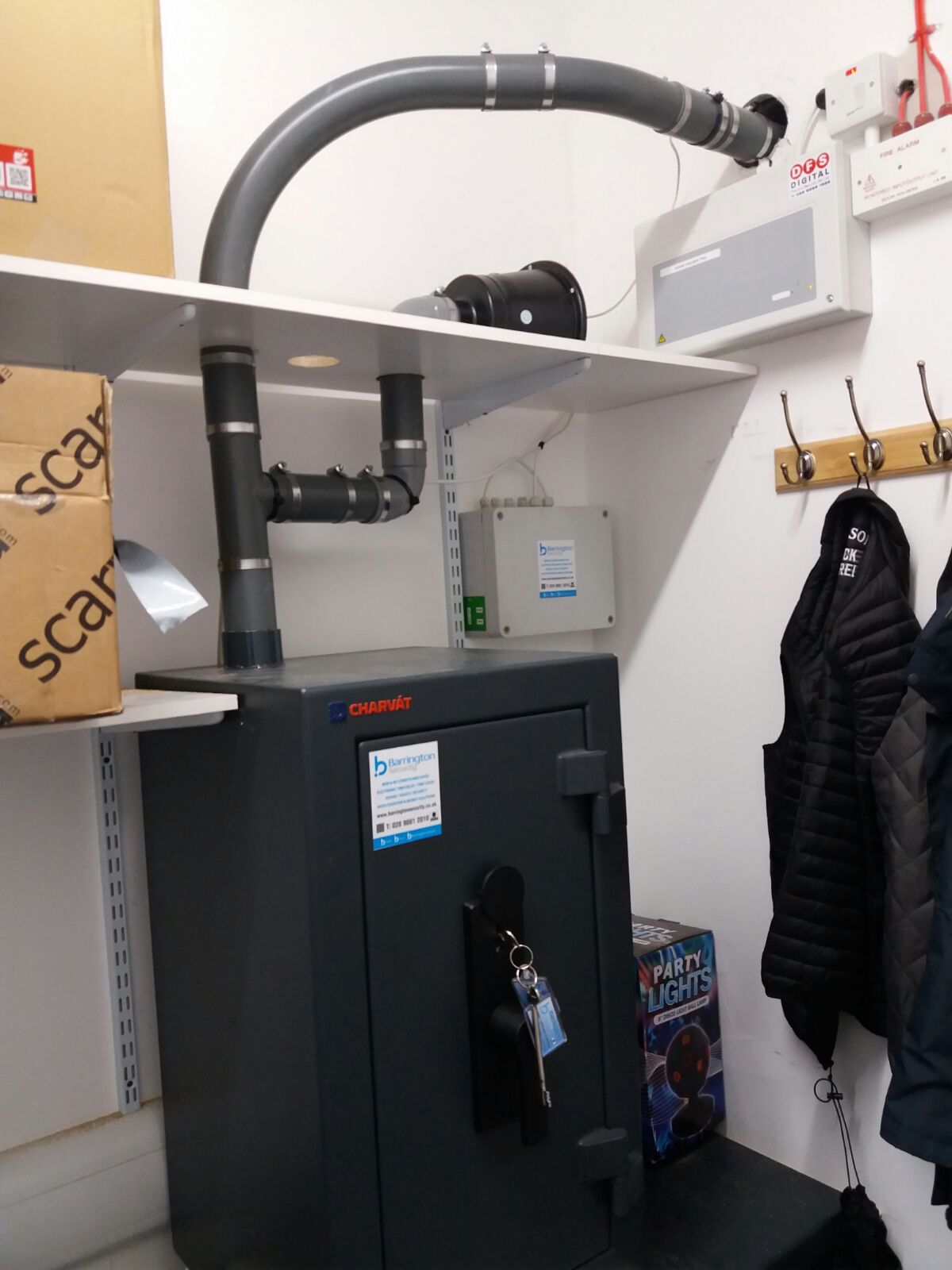 Air Tube System linked to Charvat Safe
3. Under Counter Safes with Envelope or Deposit Facility
When you work at a retail store, you need access to a convenient cash safe box such as the Chubb Counter Deposit Safe. Storing money under the counter enables you to keep your money safe at the vulnerable point, helping to reduce theft and "smash and grab" raids. Its position under the counter makes it easily accessible. It also includes two key locks for maximum security. One key is used to open the storage unit and the second key is to release it from the counter.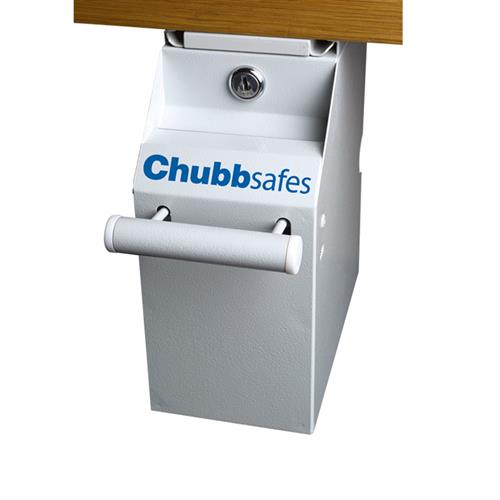 Chubb Safes Counter Unit for Retailers
Alternatively, you can go for a money deposit safe such as the Securikey Mini Vault Silver Deposit Keylock & Electronic Lock Range. This range includes a variety of differently sized money safes. Whether you want a smaller model to keep your kid's money safe or a slightly larger one to use as a cash safe box, there's something for everyone. A mini vault is ideal to prevent deposited items from being "fished" out, which makes them incredibly difficult to break into and they can hold up to £3,000 cash overnight or £30,000 worth of valuables.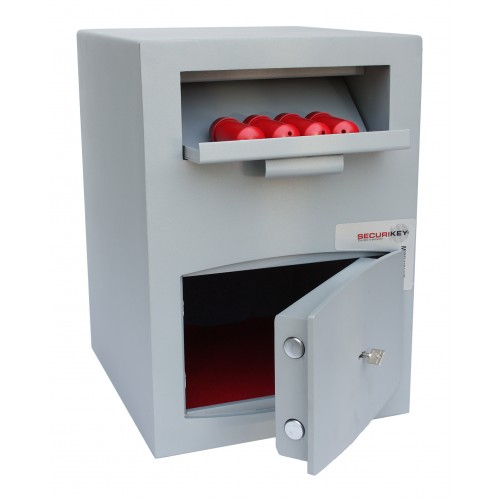 Discover our selection of drop and deposit safes here.
4. Time Locks
A time lock safe offers an extra layer of protection for your retail cash. Time locks use a locking mechanism that has a predetermined time set in place whereby you can reopen it again. In other words, once you've locked it, you won't be able to unlock it at any other time other than the one you've previously set. This means that thieves are faced with an impossible mission.
The electronic Kaba 525 Safe Lock is easy-to-use and embodies state-of-the-art microelectronics. You can program the safe via the keypad and a computer, which means you can modify additional settings easily if required. This safe offers the highest safe cash rating and includes features such as a normal time delay, duress time delay, automatic DLST, code group lockout and wrong try lockout after four false codes.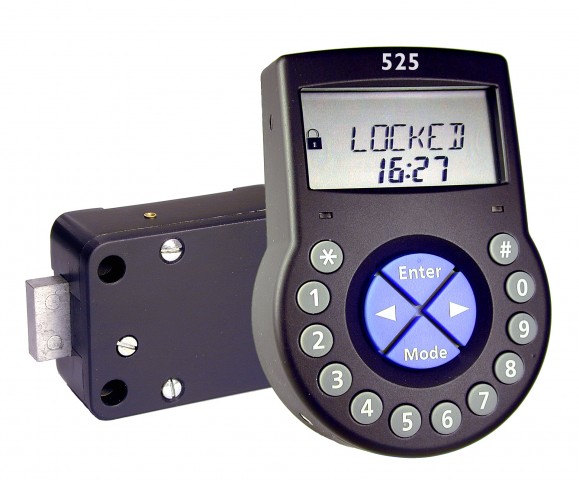 Kaba 525 Safe Lock
Our safes come with a warranty, and we also offer a 100% price match guarantee plus free shipping in Ireland and the UK. If you own a business or retail establishment, it's up to you to take the necessary steps to keep your money safe. If cash is starting to build up and you've no idea where to put it, it's time to get a money safe in place!
If you need us to talk you through the different money safe solutions in more detail, just call us on 0800 389 6066 or e-mail us to info@barringtonsecurity.co.uk